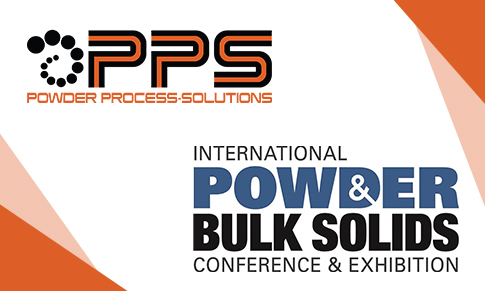 Steve Wicklund to Speak at iPBS Powder Show Conference 2021
The International Powder & Bulk Solids (iPBS) Conference & Exhibition, North America's longest-running and largest powder & bulk solids technology event often referred to as "The Powder Show," will be hosting the iPBS  Expo &  Conference for three days this coming August 24th-26th..
The three-day expo and conference offers access to top-level industry experts, critical education, and practical guidance to help solve your toughest process engineering challenges.
Powder Process-Solutions' own Steve Wicklund will be presenting at the event. After nearly 14 years in the powder handling industry, he'll be contributing his knowledge in two specific areas to further the industries growth and understanding in critical powder processing categories.
Digital Conference Workshops
Workshop Part II: Conveying Breakout – Pneumatic Conveying in the Food & Dairy Industry – Presenting 8/26/2021  2:30-3:30 pm
Get practical guidance on pneumatic conveying in the food & dairy industry. Learn how to select the right pneumatic conveyor for your application and keep it running efficiently and safely.
Workshop Part II: Processing & Quality Breakout – Powder Mixing Basics in the Food & Nutrition Industry – Presenting 8/26/2021  4:00-5:00 pm
Attend this session to gain an understanding of the key factors which are essential to ensure product quality, maximized process efficiencies and profitability in your food and nutrition powder blending process.
The program for the International Powder & Bulk Solids Conference, August 24-25 at the Donald P. Stephens Convention Center in Rosemont, IL, is the largest concentration of dry processing and bulk solids engineering expertise in the Western Hemisphere. The speaking faculty is composed of the leading experts working in the field today.
Designed for new and experienced processing professionals, the Conference provides an opportunity to learn how to solve the difficult challenges presented by powder and bulk solids processes across the domains of safety, product quality, material behavior, storage, and conveying.
Taking place in-person over two full days, the Conference program spans three tracks and four technical subject areas: Material, Storage, and Flow; Conveying; Processing & Quality; Safety & Hazard Management. Each day begins with a keynote address, and the agenda includes 24 workshops, seminars, and talks from sector leaders. Whether you are a new engineer looking to deepen your expertise or an industry veteran looking to refresh your skills and knowledge, you'll get in-depth, hands-on training you can't find elsewhere. In addition to the Conference, the exhibition Center Stage offers additional talks covering a broad range of general interest subjects, from emerging markets to innovative technologies.
An added bonus of the Technical Conference is the opportunity to earn up to 30 valuable IEEE professional development hours (PDHs).
If you're ready to sign up, get your pass here and stop into Steve's workshops!