Automated process control systems are critical to any successful sanitary powder handling system. Our process expertise helps us understand your process and determine your requirements. We utilize the latest programmable logic controllers (PLC) and human-machine interface (HMI). Graphic imaging is designed to closely simulate your plant's equipment and processes on-screen to increase operator understanding and efficiency.

Whether you need to control a single machine or automate an entire plant, you will benefit from our in-depth knowledge of the following applications:
Materials handling
Mixing & blending
Process systems
Automatic weighing & batching
Data acquisition & report generation
Recipe management
Federal regulations 21 CFR Part 11 (electronic records & signatures)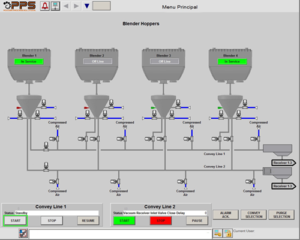 Services
Scope Development – Each project begins with a discussion and evaluation of the process control requirements. This may include: process & instrument Diagrams (P&ID), motor list, I/O list, and performance specification.
Design – Design may include: electrical control schematics, architecture definition, communication architecture, panel layout, bill of materials, and 3-phase line diagram
Programming – Programming standards simplify future control modifications and troubleshooting. Every customer gets the source code and complete documentation. Programming may include: PLC/HMI programming, alarming and logging, data historian construction, material tracking, scope packages, and remote monitoring.
Factory Acceptance Testing and Field Commissioning – All systems undergo rigorous factory quality control and simulation testing. In the field, equipment and devices are tested for network communication and I/O verification, program sequence confirmation, and overall process functionality. Everything comes with complete wiring schematics, documentation, and project manual.
Panel Building – We work with UL-Certified panel shops to fabricate custom control panels to meet UL and NEC standards.
Installation – If electrical installation is required, we will provide supervision of your preferred electrical contractor, or select a contractor qualified to work in your plant.
Customer Support – Our engineers are available to troubleshoot control system problems, whether you require on-site service or remote support.
Powder handling is more than just putting components together. At PPS, we design custom, sanitary solutions for your valuable powder. Fill out your information to the right and we will contact you within one business day to discuss your powder processing needs.
Do you process food, dairy or nutritional powders? Connect with Us!