Request a Quote: BFM® Fitting Connectors and Spigots
We're happy you're taking an active step to contain your valuable product, protect your workers, and install a repeatable, dust-tight flexible connector. The BFM® fitting is a huge upgrade to your processing facility, and as the #1 US Distributor, we're happy to provide you with a quote and additional information.
With your information provided below, we will contact you shortly to discuss:
Sizes & lengths of your connectors & spigots
Pricing information
Delivery time (in-stock items can be next-day air shipped)
Request a Quote: MAGNATTACK™
MAGNATTACK™ Magnetic Separators
Welcome to the world of innovative magnetic separators! With your information provided to the right, we will contact you shortly to discuss:
Types of magnets and their separate uses
Benefits of RE80™ magnetics
Costs associated with upgrading to MAGNATTACK™ magnetic separators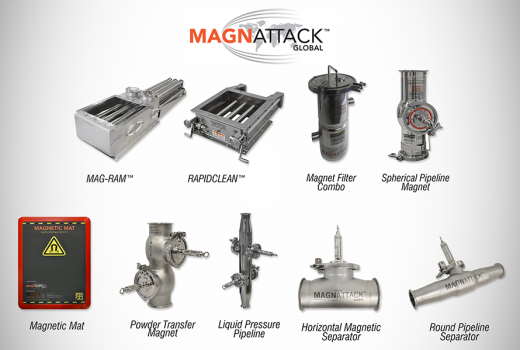 Request a Quote: Sanitary Systems
You've come to the right place! Here at Powder Process-Solutions, we specialize in
clean & sanitary powder processing systems for various industries, including:
• Food
• Dairy
• Nutritional
Powder handling is more than just putting components together. At PPS, we design custom, sanitary solutions for your valuable powder. Fill out your information to the right and we will contact you within one business day to discuss your powder processing needs.
(We are a US-based company who also installs in Canada & Mexico.)
Do you process food, dairy or nutritional powders? Connect with Us!