PPS bag dump stations offer bag dump design for manual introduction of product into the process stream. By customizing the size and specifications to the installation site and product being processed, PPS can ensure a clean, safe and dust-controlled environment.
PPS offers modularly designed bag dumps which promote maximum flexibility and customization to ensure that the correct bag dump station is integrated either into your existing system or is included in a complete system design.

Features

Custom design to suit application specifications & guidelines
Modular designs providing flexibility
Rugged bag shelf and removable grate
Baffle to provide downdraft dust movement
Nuisance dust control promoting cleanliness
Radius corners to promote powder flow & ease of cleaning
Ergonomically designed to protect workers from harmful and costly accidents or mistakes
Explosion-proof motors and controls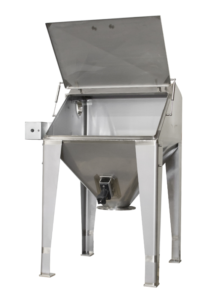 Options
Food grade and USDA Dairy grade models are available
Stainless steel or carbon steel construction suited for fine powders and granule type product
Single and dual configurations
Integral or remote dust collection with cartridges or filter bags
Pallet lift tables
Magnetic bar grate
High capacity sifting or scalping
Discharge devices
Vibration, fluidization, impacting
Bag compaction and waste conveying systems
Available in special construction materials, coatings and finishes
BFM fitting snap-in flexible sleeve below bag dump
Removable bag shelf
Removable bag grate and mesh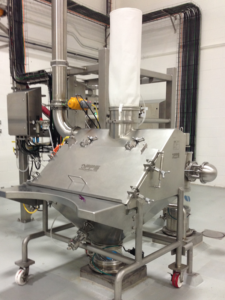 Sanitary bag dump stations are our specialty. Our bag dump stations are designed with minimal flat surfaces and raised openings to ensure the cleanest operation possible. PPS bag dumps are available in many design options including side-by-side, adjacent, opposite, and independent.
Do you process food, dairy or nutritional powders? Connect with us!