RAPIDCLEAN™ Quick Clean Grate Magnets
The RAPIDCLEAN™ grate magnet serves as a quick-clean grate magnet, featuring a dust-tight housing that can be easily cleaned outside the product stream. The RAPIDCLEAN™ grate magnets can be installed at the inlet or outlet of rotary valves, at the discharge of screw conveyors , elevators, flowveyor and blenders, or upstream of all packing operations and bulk filling.
The swing-up design of the grate magnet allows for easy and quick cleaning, which also allows maintenance to safely clean in the process area, compared to other magnetic separator designs that require transporting the magnet grate for cleaning, which can leave maintenance open for injury and the magnets exposed to damage.

Design Features
Stainless steel construction
Ledge free housing interior
Swing-up magnet feature is robust, compact, safe, and self-supporting
Low profile design fits into tight installations
USDA Dairy accepted models, suitable for hygienic sensitive applications such as dairy and baby food powders
Variable bar centers to suit product flow
Engineered tool free, quick release magnetic door closure provides even door seal pressure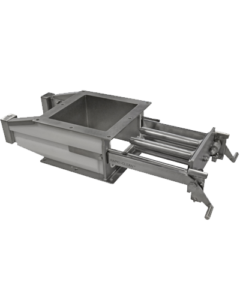 Magnetic Details
RE80™ or RE80™ HT ultra high energy magnet element options, greater than 11,000 gauss
Seal welded and vacuum encapsulated for extended magnet strength life
Withstands cleaning temperatures to 302°F — safe to hot water blast (HT models)
Every magnet is Gauss and pull tested and documented
Safety Features
Product security
Drawer support slides support magnets for cleaning, no chance of injury from handling magnets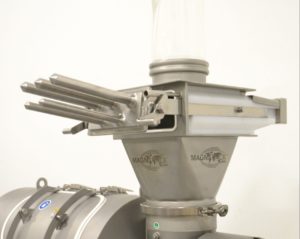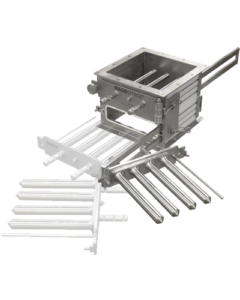 Request a Quote:
MAGNATTACK™ Magnetic Separators
Complete the form and we'll get back to you within one business day!
We're happy you're taking an active step to protect valuable product, your workers, and streamline your magnetic separation cleaning and processing. MAGNATTACK™ magnetic separators upgrade to your processing facility with superior magnetic separation, and we're happy to provide you with a quote and additional information.
With your information provided below, we will contact you shortly to discuss:
Types of magnets and their separate uses
Benefits of RE80™ magnetics
Costs associated with upgrading to MAGNATTACK™ magnetic separators
Do you process food, dairy or nutritional powders? Connect with us!