About Powder-Solutions, Inc.
Powder-Solutions, Inc. is a distributor of the BFM® fitting flexible connector and MAGNATTACK Global's line of premium magnetic separators. These unique technologies offer efficient, easy-to-install solutions for processing plants with safety and sanitation problems. Because of our knowledge of powder processing system challenges, we are always searching for the next solution to common processing problems.
BFM® fittings are a revolutionary flexible connector system that eliminates the problems associated with typical hose camp systems in bulk processing operations. PSI is the #1 US distributor offering the largest stock and over a decade of installation experience and expertise.
BFM's connectors offer:
 100% sealed connection (no mess, no leaks)
 No tools required for installation or removal
 Connectors seal tighter under pressure
 No product build-up

PSI also distributes the MAGNATTACK® Global line of sanitary magnetic separators. MAGNATTACK® magnetic separators offer superior product protection by providing quick-clean or self-cleaning magnets that are sanitary, dust-tight, and 10,000+ gauss rare earth magnets.
MAGNATTACK® magnets include: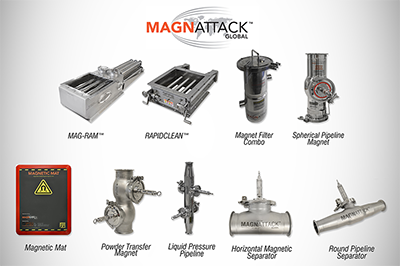 Are you looking for a BFM® fitting quote? Have technical questions?