Blower Packages
Positive displacement blower packages are provided as a component or as an integral part of a PPS provided system. For over 30 years, we have been providing pressure and vacuum blower packages to the food processing industry.
The blower package, be it a pressure or vacuum system, dilute-phase or dense phase, provides the motive for air delivery of food products through convey lines. Our Process Engineers are able to design blower packages for all compatible applications and provide you with an appropriately sized package for optimum efficiency and performance.

Features and Benefits
-14″ Hg to 16 PSIG capacity PD blower packages
High vacuum blowers (regen, dry vane, oil lubricated, liquid cooled)
Base units provided with integral noise silencers, check valves and relief valves
1.5 safety factor on belt drive train design
Heavy duty support frames and drive guarding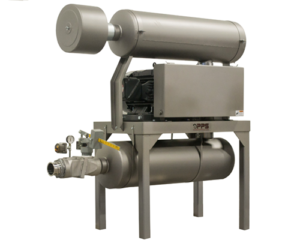 Available Options
Compact, stackable, wall mount or modular assemblies
Packages available using a variety of top brand blower and motor manufacturers
Sanitary designs with formed angle base, tubular legs, minimum ledges and corners
Stainless steel construction
High gloss food grade epoxy or Steel-It enamel finishes (Customer preferred colors available)
Pressure/vacuum transmitters, switches, polycarbonate windows in guard, timing belt drive components, explosion proof electronics, etc.
Acoustical enclosures
Screw compressors for high volume, high pressure dense phase systems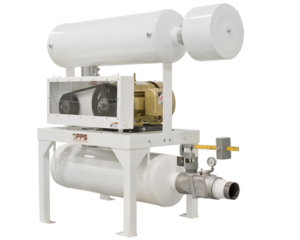 Safety Features
Fully enclosed guards
Over-pressure protection devices
Noise reduction features; silencers, anti-vibration devices
Powder Process-Solutions will customize a blower package for your unique application based on air flow requirements, altitude, and inlet/outlet pressure conditions. Our goal is to provide you with the most economical blower package designed and fabricated specifically for your application.
Dehumidifers & Aftercoolers
Dehumidifiers and aftercoolers are utilized in process air and pneumatic conveying systems to control both the moisture level and temperature of air that comes into contact with moisture and heat sensitive products.
Dehumidifiers use chilled water or refrigerant heat exchange coils to lower the incoming air temperature below the dew point at appropriate face velocities. This allows for the separation of moisture from the air stream followed by the draining of condensate from the housing. Dehumidifiers can incorporate a reheat coil or use heat of compression when located on the intake side of a pressure blower to lower the process air relative humidity for increased moisture carrying capacity.
Aftercoolers use heat exchange coils to remove the heat generated by a pressure blower prior to product contact.
Our superior housing design allows for access to heat exchange coils for inspection and can be arranged in inline or stacked configurations where installation space is limited.
Features
304 or 316  stainless steel and carbon steel
USDA Dairy Construction
Copper tube and aluminum fin coil
O.D. tube, flanged or ferrule connections
Insulated housing
Temperature and differential pressure gauges
Self-acting water flow control valve
Powder Process-Solutions is able to provide custom configurations of dehumidifiers and aftercoolers to fit your equipment, location and plant requirements.
Final Filter
Final filters are the last component in the air stream of a pneumatic conveying system prior to product contact that determines convey air quality. Final filters serve as the sanitary barrier between the process and air handling equipment. A range of filtration efficiencies are offered, including HEPA grade 99.97% efficiency at 0.3 micron suitable for dairy and 3A applications.
Features
304 or 316 stainless steel
USDA Dairy construction
Removable filter from housing – no tools necessary
Varying connections available with differential pressure gauges
Available Options
Low pressure drop rectangular housings
Stand alone units
Compact cartridge filter units
Final filters provide ultra-filtration required for stringent sanitation guidelines. At Powder Process-Solutions, we are committed to providing you the optimal, customized equipment for your specific process.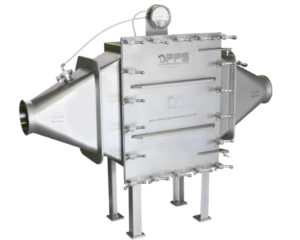 Do you process food, dairy or nutritional powders? Connect with us!