Inline Magnets for Liquid
Liquid Pressure Pipeline Magnetic Separator
The MAGNATTACK™ liquid pressure pipeline system features double or single RE80™ +11,000 gauss magnet elements. These magnets are designed to intercept the flow of liquid product lines, then extract and retain foreign magnetic fragments such as work-hardened stainless steel and stone particles, fine wear fragments, and rust.
The liquid pressure pipeline separator is safe, efficient, hygienic, and easy to clean.

The system consists of a special pressure vessel housing design that is hydrostatic pressure tested to 400 PSI. A certificate is provided with every supply.
Inline probe style models are available for 1"-6" pipelines. The powerful magnets intercept the flow of product providing 11,000+ gauss protection.
Design Features
Efficient magnetic separation for food safety without leaks, blockage, or distortion
Suits products with lumps to approximately 0.4"
Can be used in pressure or vacuum lines
Jacketing where specified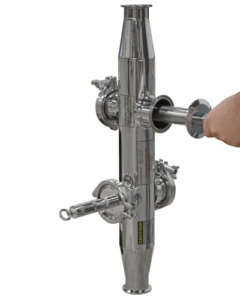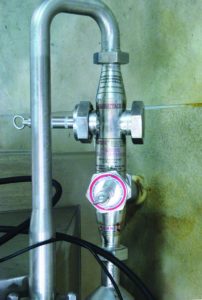 Magnet Filter Combo
The MAGNATTACK™ RE80™HT magnet filter ombo (MFC) provides a unique solution which attracts and retains fine microscopic metal contamination that escapes filters. The system is designed to complement foreign body control and provides an excellent measure for identification and analysis of collected metal contaminants.
The MFC design combines 316SS fine filtering systems and a high-temperature resistant RE80™HT magnet element which intercepts the flow of the product with minimal resistance and, at the same time, provides maximum product-to-magnet contact.
Design Features
Low maintenance & easy installation
Extraction of magnetic fragments, work hardened stainless steel and stone particles in viscous and non-viscous liquid food products
Suitable for 1" to 4" pipelines
Product and CIP cleaning temperatures to 302°F/150°C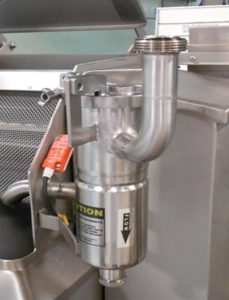 Request a Quote:
MAGNATTACK™ Magnetic Separators
Welcome to the world of innovative magnetic separators! With your information provided below, we will contact you shortly to discuss:
Types of magnets and their separate uses
Benefits of RE80™ magnetics
Costs associated with upgrading to MAGNATTACK™ magnetic separators
Do you process food, dairy or nutritional powders? Connect with us!