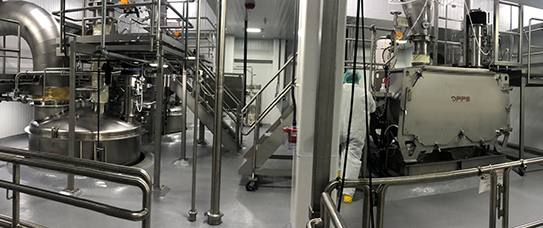 A successful process starts with a superior system design. PPS customers benefit from over 50 years of extensive system application experience and powder testing. We know what works and what doesn't. We work closely with our customers to understand their needs in order to provide expert design and consulting services for new and existing powder handling systems in need of an upgrade.
We strive to provide cost-effective solutions that meet key performance requirements now with consideration for future design flexibility to grow with your business. Our attention to detail is second to none with all equipment thoroughly inspected and FAT before shipment, preassembled where practical for a faster installation to production time.
Our highly experienced team has an extensive understanding of the food and dairy industries, which allow us to manufacture systems that meet the highest internationally recognized sanitary and safety standards. Our engineers are proficient in USDA Dairy and 3A sanitary standards along with EHEDG standards when required. Powder Process-Solutions systems are designed, fabricated, and assembled locally in Minneapolis, Minnesota and installed throughout North America, Asia, and Europe.
Do you process food, dairy or nutritional powders? Connect with Us!