MAG-RAMTM Self-Cleaning Grate Magnet
USDA Dairy Accepted
Models available
The MAG-RAM™ magnet separator is a self-cleaning grate magnet designed to collect ferrous metal fragments without human interaction for cleaning.  The MAG-RAM™ self-cleaning magnet pneumatically retracts each magnetic rod wiping the tramp materials into a collection chamber at the back of the magnet housing.  Each rod is able to act independently of each other with the ability to clean one rod at a time allowing for continuous product flow during cleaning cycles.  Unlike other self-cleaning magnets where standard air cylinders retract all the rods at once, each "RAM" of the MAG-RAM™ is a self-contained air cylinder with the magnetics built into the cylinder rod.

The magnet cartridges are vacuum resin encapsulated inside the stainless steel rod to create the most robust magnet circuit available. A mechanism in each RAM rotates the rod slightly each time it is retracted for cleaning. This action "dumps" loose powder from the top of the rod into the product stream, reducing waste, and it assures even wear of the rod from product abrasion.
Automatic cleaning can take place both during production, and before or after production runs.
The units can be sized to suit existing chutes and hoppers and replace existing low strength or inefficient grate magnet configurations.
Applications for the MAG-RAM™ self-cleaning magnet range from the extraction of work hardened stainless steel, wear iron and tramp metal from sugar, grain, and other bulk products.
Design Features
316 Stainless steel construction
Ledge free housing interior
Enclosed housing during cleaning means process is never exposed to atmospheric environment
USDA Dairy Accepted models, suitable for hygienic sensitive applications such as dairy and baby food powders.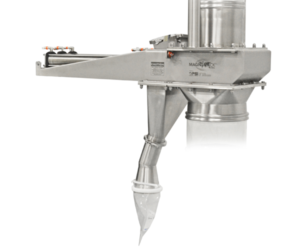 Magnetic Details
RE80™ or RE80™ HT Ultra High Energy Magnet Element options, greater than 11,000 Gauss
Seal welded and vacuum encapsulated for extended magnet strength life
Withstands cleaning temperatures to 302°F – Safe to hot water blast (HT models)
Non-magnetic ends protected from product flow
Every magnet is Gauss and pull tested and documented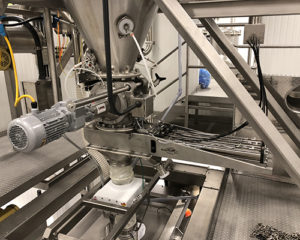 Safety Features
Product security
Reduces OSHA issues caused from cleaning heavy magnets
Eliminate risk of metal fragment issues caused by magnets not being cleaned (no operator error)
Closed process during cleaning reduces chance of contamination from personnel and atmosphere
Machinery and plant protection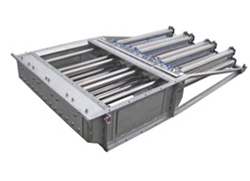 How it Benefits You:
The MAG-RAM™ is a self-cleaning magnet that eliminates the risk of metal fragment issues caused by magnets not being cleaned. Reduces chance of operator injury and removes hygiene risks associated with operator contact and open process. High energy RE80™ and RE80™ HT magnetics designed to offer a high level of metal fragment control to increase food safety and reduce risk of metal contamination.
Request a Quote:
MAGNATTACK™ Magnetic Separators
Complete the form and we'll get back to you within one business day!
We're happy you're taking an active step to protect valuable product, your workers, and streamline your magnetic separation cleaning and processing. MAGNATTACK™ magnetic separators upgrade to your processing facility with superior magnetic separation, and we're happy to provide you with a quote and additional information.
With your information provided below, we will contact you shortly to discuss:
Types of magnets and their separate uses
Benefits of RE80™ magnetics
Costs associated with upgrading to MAGNATTACK™ magnetic separators
Do you process food, dairy or nutritional powders? Connect with us!