Mechanical conveyors move a wide variety of dry bulk material efficiently and safely and offer several different styles of motion. The method of movement used to transfer the product is determined by the product's material characteristics.  If the product has fragile material properties, a conveyor with a gentle motion must be the method of transporting the product to the destination.  If the material is abrasive then the equipment must be fabricated from high quality material.
PPS has the expertise to determine the type of mechanical conveyor that is suited for each product, system, and site size location.
Our designs offer flexibility to custom fit the selected conveyor for newly designed systems or integration into an existing process. We offer a wide range of conveying equipment, focusing on vibrating tube conveyors, screw conveyors and screw feeders to properly transport your materials.
Various materials and surface finishes are available. Demountable designs are available when applicable and USDA Dairy Acceptance models meeting 3A Sanitary Standard 81-100.
Types of Conveyors
Volumetric Screw Feeders
Volumetric screw feeders (with or without overflight) are used for applications where the controlled rate of product discharge is important to the process. Applications include discharge of smaller hoppers, bulk bag unloaders, bag dump stations, and minor powder addition and batching systems.
Design is fully demountable for easy cleaning
Meets 3A sanitary standard 81-00
Stainless steel construction
Screw diameters ranging from 4" to 10" and screw lengths up to 60"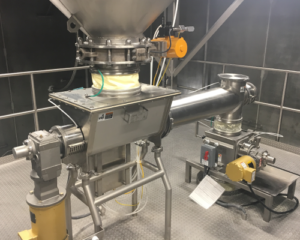 Vibrating Tube Conveyors
Vibrating tube conveyors are ideal for conveying fragile agglomerated, instantized and standard powders or granules horizontally. Product degradation is virtually eliminated because product never comes in contact with moving parts. Tube can be dry cleaned manually through end inspection covers or cleaned in place with spray ball fittings.
Sanitary design meets USDA Dairy 3A standards.
Totally-enclosed, dust free operation
Extremely quiet operation, between 60-75 DBA.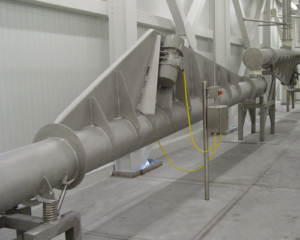 Screw Conveyors
Powder Process-Solutions Screw Conveyors are available in a wide range of styles for general conveying applications as well as for silo discharge duties. Single units with variable pitch augers or multiple auger units for difficult products may be used to assist the discharge of materials with poor flow properties from silos. A wide range of features are available:
Heavy duty construction
Variable pitch augers to encourage mass flow
Half pitch augers to prevent flushing of free flowing fluidized products
Double flight designs to provide even continuous discharge rates
"Live Bed" multi auger designs for cohesive or easily bridging products
Tapered, ribbon, cut flights and paddles for special applications
Outlet designs to suit applications
Motor options
Wide choice of additional options such as demountable/sanitary options, access covers, drive, bearings and shaft seals.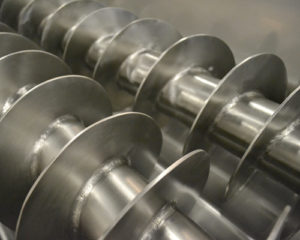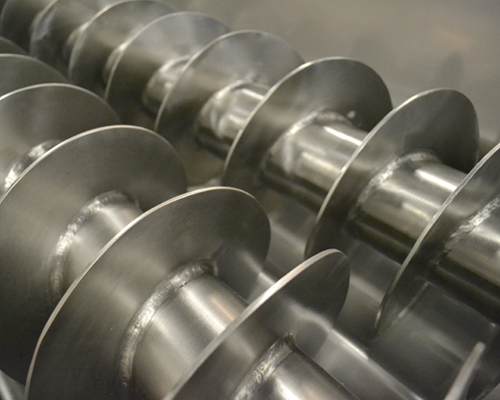 Do you process food, dairy or nutritional powders? Connect with us!