PPS bin vent filters are an effective solution for dust control problems in bins, hoppers, and silos. A bin vent will separate dust particles from the conveying air, either discharging the unwanted dust or reclaiming it for use again.
Dust particles are collected on the outside surface of special bags or pleated filter elements as the air stream passes through the filter media and up to the clean air plenum.  A pulse of predetermined compressed air is released into a distribution pipe, producing a shock wave along the length of the bag, dislodging the particles from the surface for product recovery.
Bin vent filters can be furnished to handle air volumes ranging from 50 to 5,000 cubic feet per minute. All bin vent filters are equipped with automatic online pulse-jet cleaning technology.
Top-load and bottom-load units are available with bags/filter elements accessed from above or below the tube sheet.

Features
Adjustable automatic online pulse-cycle cleaning technology
Solid state timer board in a NEMA 4 enclosure
Wide range of high efficiency filter media
Top and bottom bag/cartridge removal
Broad selection of internal coatings, special exterior finishes and insulations
Materials of construction include carbon steel, stainless steel, and aluminum
Food-grade construction or designs that meet 3A dairy requirements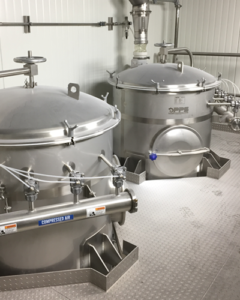 Options Include
Exhaust fans
Internal support grids
Pulse-on-Demand filter cleaning
Explosion venting and suppression
Support legs and platforms
Powder Process-Solutions will properly design a bin vent for optimum filtration efficiency, low energy consumption, and long bag/pleated filter bag life.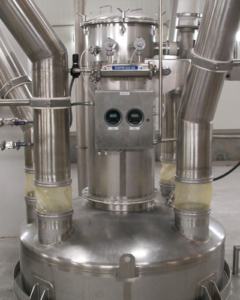 Do you process food, dairy or nutritional powders? Connect with us!