Powder Process-Solutions (PPS) cyclones are specifically designed to enhance the quality of air released from industrial and commercial processes by cyclonically collecting dust and other impurities. Our cyclone dust collectors are designed specifically for powder processes involving a wide variety of problematic materials and particle sizes. The need for cyclone dust collectors is particularly necessary in processes with high temperature, moisture, sticky,  and abrasive powders.
PPS tailored cyclones are designed to fit your unique application, process, and product needs by integrating custom specifications with proven design standards. Having no internal moving parts, our highly efficient and low pressure drop design is economical and cost effective.

Benefits
Tailored to fit your specific application requirements
High efficient separation
Demountable features for ease in disassembly and dleaning
No internal moving parts
Economical & cost effective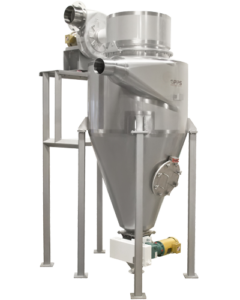 Features and Options
Food Grade non-stick coating
Sanitary construction
Fully welded and polished finish
Hinged and clamped cleanout door with safety switch
Davit arm available on larger, sanitary units
Optional load cells
Optional flanged discharge for rotary valve mounting
Optional insulated side walls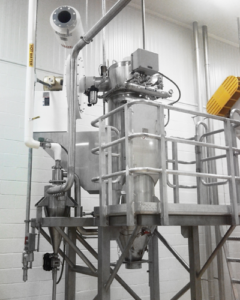 PPS has over 45 years of experience and expertise in designing cyclones for multiple applications and powder types including challenging processes with high temperatures, moisture, sticky, and abrasive powders. Our cyclone dust collecting designs with demountable features and no internal moving parts are not only efficient and economical, but also easy to clean and maintain.
Do you process food, dairy or nutritional powders? Connect with us!