Mechanical Conveying Systems
Mechanical conveying systems transport large amounts of product horizontally, vertically, or at an incline through a powder processing system. Typically, there are a number of moving parts within a mechanical conveying system, such as; belts, buckets, chains and trays that are utilized to move product at a quick pace.
At Powder Process-Solutions, our team of engineers works closely with our clients in designing mechanical conveying systems that are specifically tailored to their unique needs to ensure efficiency, safety, and sanitation.

Advantages of Mechanical Conveying
Mechanical conveying systems have been part of manufacturing and production for decades, and offer several advantages over pneumatic conveying systems:
Mechanical conveying systems are more energy efficient than pneumatic systems and typically require as much as 10 times less horsepower.
Smaller dust collection systems are sufficient since mechanical conveying does not need to separate material from an air stream.
Increased fire and explosion safety for combustible bulk solids over pneumatic conveyors.
Well-suited for transporting dense, heavy, granular and sticky materials which cause pipeline blockages.
Cost effective—less expensive to design and install
Mechanical Conveying Types and Applications
Mechanical conveyance of bulk powders can be achieved in many ways and is most often used to transport product short distances. Below are three of our most common types of mechanical conveying systems:
Screw Conveyor
Screw conveyors  are perhaps one of the most popular and cost-effective ways to mechanically convey product. This type of system, which can be installed horizontally or inclined, is often used for:
Discharging small hoppers
Unloading bulk bags or hand dump stations
Adding minor amounts of powder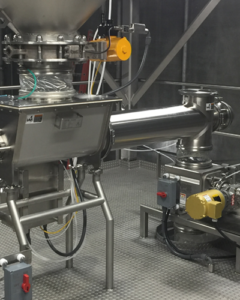 Vibrating Conveyor
Vibrating conveyors are a highly sanitary and gentle option for conveying sensitive bulk powder material. This type of system is often used to:
Convey dry, wet, warm, greasy, frozen, hygroscopic, oxygen absorbing, or abrasive products
Convey with simultaneous spreading, cooling, heating, draining, distribution, unification, dusting, grading, or drying
Differential Motion Conveyor
A differential motion conveyor uses a horizontal, slow-advance, quick-return motion to gently convey product and practically eliminate conveyor-imposed product damage.
Selecting the Right Conveying System
Powder Process-Solutions has over 45 years of experience in industry and manufacturing knowledge of mechanical conveying systems. Choosing the right mechanical conveying system for your business should be based on several factors including the type of material being handled, space, conveying rates, travel distance, and other process requirements. With our in-house test lab, we can gain product specific information to assist our engineers in designing a mechanical conveying system that gives our clients the most efficient, safe, sanitary and quality process solution.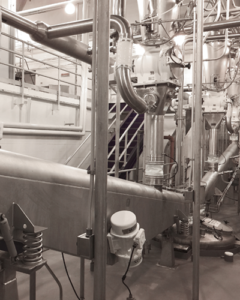 Powder handling is more than just putting components together. At PPS, we design custom, sanitary solutions for your valuable powder. Fill out your information to the right and we will contact you within one business day to discuss your powder processing needs.
Do you process food, dairy or nutritional powders? Connect with Us!