BFM® fittings are a revolutionary flexible connector system that eliminates the problems associated with traditional hose clamp systems in bulk powder processing operations. By utilizing two welded collars and a snap-in sleeve, BFM® fittings create a tool-free environment for cleaning and changeover. Comprised of these two basic elements, the flexible sleeve with integral top and bottom snap bands and two matched BFM® spigots, the fitting snaps easily into place using only your hands!

The BFM® fitting is a revolutionary and distinctive snap-in, flexible connector and spigot that eliminates the problems associated with traditional hose clamp systems.
BFM®s patented blue band connectors provide superior performance:
100% sealed, no mess, no leaks
Seals tighter under pressure
No product build-up means better hygiene
No tools required for fitting
Snap-in design makes installation easy
Standardised connector sizes mean you need to keep less stock
BFM® fittings are available in a wide variety of materials. Depending on your processing specifications, both non-breathable, the more common BFM fitting connectors and breathable versions are available. Below, you will see all the materials available to our customers.
Non-Breathable Connectors
Our most popular sleeve materials utilized, non-breathable BFM fitting connectors create a dust-free environment for your facility. By safely containing your product, these materials also allow for viewing your product.
Breathable Connectors
Breathable connectors are also available for processing materials or systems that require a slight level of breathability. For example, breather bags allow air out to prevent product bridging.
Our experts are always available to help discuss your options and eventually make a decision as to which material is appropriate for your equipment.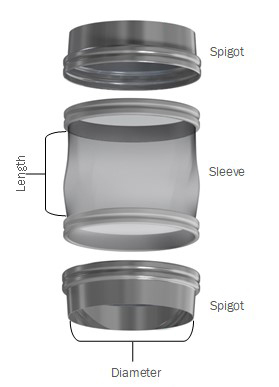 Jump to BFM fitting Resources
Request a Quote:
BFM® Fitting Connectors and Spigots
We're happy you're taking an active step to contain your valuable product, protect your workers, and install a repeatable, dust-tight flexible connector. The BFM® fitting is a huge upgrade to your processing facility, and as the #1 US Distributor, we're happy to provide you with a quote and additional information.
With your information provided below, we will contact you shortly to discuss:
Sizes & lengths of your connectors & spigots
Pricing information
Delivery time (in-stock items can be next-day air shipped)
Do you process food, dairy or nutritional powders? Connect with us!