At Powder Process-Solutions, we have years of experience designing dust collection systems to maintain the sanitation, safety and efficiency of your production environment. Our systems are custom designed based on the proven formula of Capture, Convey and Collect the dust. We engineer a custom solution, not a catalog "cookie cutter" approach.

Capture
We will evaluate the source of the dust and operational requirements to engineer the best hood design to capture dust at the source. Minimum capture velocities are required to pull the dust out of the atmosphere and away from the operator.
Convey
Duct is properly sized and routed to maintain a minimum conveying velocity. Incorrectly designed ductwork can allow the dust to settle, robbing system performance and creating an unsafe condition. A suction fan is selected for the calculated CFM and static pressure.
Collect
Dust must be separated from the air stream using an appropriate dust separator (cyclone, bag house scrubber, etc.). Collected dust must also be discharged from the separator in a safe manner for recovery or disposal.
Our dust collection systems help process plants comply with OSHA and NFPA regulations by controlling in-plant and environmental pollution.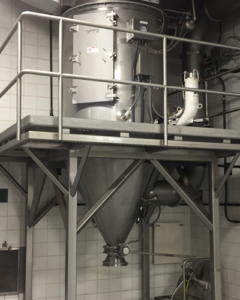 Powder handling is more than just putting components together. At PPS, we design custom, sanitary solutions for your valuable powder. Fill out your information to the right and we will contact you within one business day to discuss your powder processing needs.
Do you process food, dairy or nutritional powders? Connect with Us!