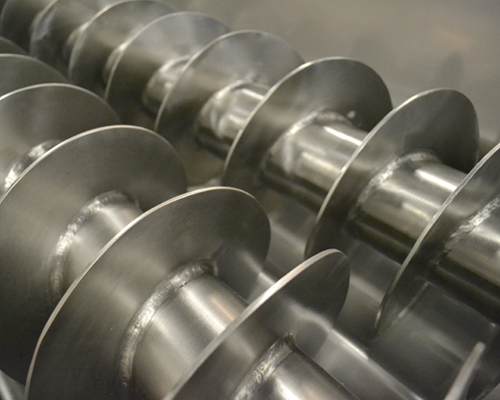 How to Select a Mechanical Conveying System
Choosing the right mechanical conveying system for your business can be tough. Luckily, we can help. We've come up with a short list of critical factors to consider when choosing the best possible mechanical convey system to meet your business' needs:
• Type of material being handled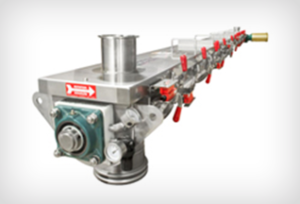 • Available space
• Product travel distance
• Conveying rates
• Conveyor service life
• Conveyor energy and maintenance costs
Screw Conveyors
A screw conveyor is a mechanical conveying system commonly used by powder processors in the food, dairy, and nutraceutical industries. Screw conveyors transport powder by using shafted or shaftless helixes that rotate within a trough or tube, creating force against the product as it rotates so that powder can be controlled by varying rotation speed.
Screw conveyors are one of the most popular and cost-effective ways to mechanically convey bulk powder materials from point A to point B. Our team of engineers will work with you to design an efficient and sanitary screw conveyor customized to suit the unique requirements of your application.
Types of Screw Conveyors
Screw conveyors are available in sizes ranging from micro feeders to mass flow feeders, with a wide range of screw lengths available. The two most common types of screw conveyors are horizontal and inclined.
Horizontal Screw Conveyor
Horizontal screw conveyors are the most commonly used type of screw conveyors. They require fewer configurations at installation and often cost less to operate than inclines screw conveyors.
Horizontal screw conveyors are ideal for conveying dry to semi-fluid materials and feature an enclosed pipe design to protect against contamination and product and dust leakage.
Inclined Screw Conveyor
Inclined screw conveyors feature a sloped design, allowing for an incline of up to 45 degrees. They often have greater operating costs than horizontal screw conveyors, since more horsepower is required to move product upwards.
Inclined screw conveyors are ideal for transporting product short distances. The inclined screw conveyor takes up less space than the horizontal screw conveyor.
Customization Options
There are numerous ways to customize your screw conveyor to best fit the type material you're conveying and the workplace you're operating in. Some of the customizable options include:
• Standard auger
• Conical auger
• U-trough
• Tube-trough
• Flared u-trough
• Combination designs
When to Use a Screw Conveyor: Applications & Industries
Screw Conveyors are a great fit for many bulk-handling industries including the food and beverage, dairy, and chemical sectors. Some products that benefit most from screw conveyors are:
• Food processing
• Ingredients (sugar, flour, spices, grains)
• RTE (ready-to-eat)• Semi-solut materials
How to Select the Right Screw Conveyor Design & Size
The first step in selecting the right size of screw conveyor is to identify the amount of capacity you require. Capacity is the weight or volume-per-hour of bulk material to be conveyed.
Powder Process-Solutions has an on-site test lab that can be used to gain helpful information when handling new products with unfamiliar properties.
Differential Motion Conveying System
At Powder Process-Solutions, we make it a priority to stay informed about bulk conveying system advancements, so that we can integrate the most innovative technology into our customer's applications.
The differential (also known as horizontal) motion conveying system is recognized for its unique conveying motion. Conventional vibrating conveyors use a vertical throwing motion to propel material with repeated impacts against the conveyor. The differential motion conveyor uses a gentle horizontal, slow-advance, quick-return motion that practically eliminates conveyor-imposed product damage.
Features and Benefits: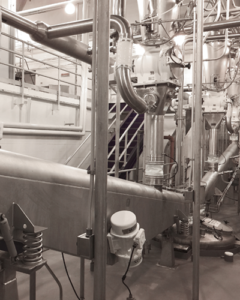 • Gentle, non-impact conveying motion, excellent for fragile products
• Mass flow conveying with minimal stratification
• Elimination of compacting and build-up on conveyor
• Sanitary construction for ease of cleaning
• Long-term reliable performance
Design Options:
• Lengths from 4 feet to more than 200 feet
• Configurations to align, singulate, divide, dry, or cool product
• Overhead suspension or floor mounting
• Multiple channels, pneumatic discharge gates, and removable covers
Learn more about screw conveyors and our test lab capabilities on our website or contact us today.