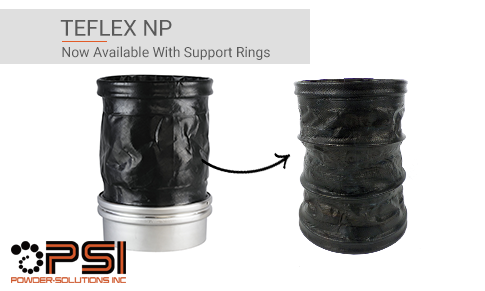 Teflex NP Now Available With Support Rings
Teflex NP is a pure PTFE non-permeable connector with heat and chemical resistant properties capable of running at an operating temp of 572ºF, with short-term splurges of 600ºF.. The Teflex NP is a stronger version of the standard Teflex flexible connector release in 2018, and it can be used in a wide variety of applications, serving specifically beneficial for the chemical industry.
The sleeve is getting an update to allow for more flexibility for our customers!
Now Available With Support Rings
As many of our customer know, support rings help to keep the connector walls open when they are being used under negative pressure, or are longer in length. Vacuum pressure tends to suck the walls of the connector inwards, so the rings keep the connector open and allow product to flow. This is even more important the longer the connector gets.
Teflex NP sleeves are now able to incorporate these support rings so that even when an installation runs at a higher temperature, it can also be reinforced with stainless steel rings.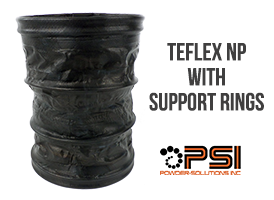 As a general rule under vacuum, the maximum length of the BFM fitting connector should be no longer than its diameter without support rings. For example, a 100mm (4″) diameter BFM® connector should be no more than 100mm (4″) long. We recommend that if you have a connector 200mm (8″) or longer being used under vacuum, support rings should definitely be considered.
For Teflex NP, the maximum number of rings (on a single connector) for Ø100 & 125mm is 6 and for Ø150mm – 500mm, it's 8.
If any of these available sleeves sound like they could benefit your facility, please fill out the form below and we will get in contact with you within one (1) business day.