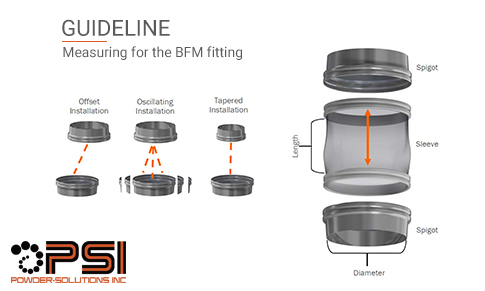 Measuring for the BFM fitting
Measuring for BFM fittings can be a daunting task. There are many things to take into consideration when figuring out how and where you can expect successful installations of BFM fittings. With the right tips and support, you can ensure a seamless installation from start to finish.
BFM fittings
As you may know, the BFM® fitting consists of a flexible connector and two spigots. You can choose from a range of materials to suit your application – the most popular material being Seeflex 040E (transparent 0.9mm polyurethane). When you're ready, you can view the entire line of materials offered here.
Let's look at the sizing and situational considerations you'll analyze when establishing your proper BFM fitting spigots and sleeves.
Sizing
BFM® fitting connector lengths start at 80mm (3"), then go from 100mm (4") through to 6m (19ft 8") in 50mm (2") increments.* The length of connector you choose will largely depend on the total space (TS) you have available to install your connector
For static/vibratory applications, any length is fine provided the correct Installation Gap is used. We usually recommend installing the longest possible connector for any application where you have large movement.
As a general rule, for in-line connectors that have little (vibratory) or no movement, you can position the spigots at a distance of approx. 1/2″ less than the connector length. If the installation gap is too big, the connector will be stretched and difficult to install and remove from the spigot. The seal may also not be 100% dust tight anymore and service life will be compromised. If it is too small, the connector may have excessive creases, creating more product contact.
Measuring for the BFM fitting
If you haven't ordered your BFM fittings yet (& need assistance measuring for the proper fit), look over the 'Measuring for a BFM fitting' guide. This guide will help ensure the proper fit for easy installation & longest possible sleeve lifespan.
The Measuring Guide listed above is a great tool, but if you require assistance beyond the guide, know that our PSI staff are available for quick assistance. Fill out the form below or give us a call at 877-236-3539 for immediate assistance in securing the correct BFM fitting system.