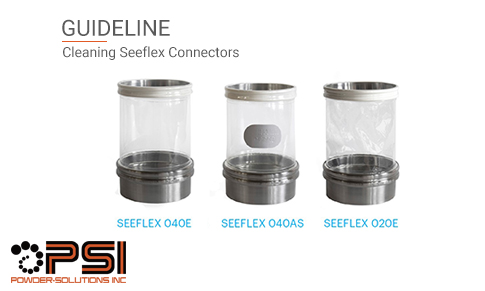 Proper Way to Clean BFM fittings
Have you ever thought about the best way to clean your sleeves? BFM® fitting Seelfex connectors are the most popular BFM fitting material installed, and thankfully keeping them clean is a simple process.
BFM® fitting's are resilient and will outlast many comparable media, although they will naturally wear with usage over time. Good regular maintenance will give you the best possible life.
Here we outline the two methods of cleaning your non-breathable BFM® fittings.
MANUAL CLEANING
CIP (CLEAN IN PLACE)
The recommended way to clean the BFM® Seeflex connectors is with Isopropyl alcohol, which leaves the connectors clear as a window & has the added advantage of sanitizing the connector.
BFM® fittings can be used in CIP processes that use detergents or chemicals. If your process uses purely detergent, there will be no issues.
You can also rinse or wash your BFM®
connector using non-corrosive detergents
in warm water. It is important that the BFM®
connector is wiped clean and dry of any
residual chemicals after washing, and the
internal surfaces of the BFM® spigots are
also wiped clean and dry.
ACID: No more than 0.8%

CAUSTIC: No more than 1.5%

IMPORTANT: ALWAYS WIPE YOUR BFM FITTING AFTER CIP.
Please know that CIP cleaning may cause the sleeve to yellow over time, but it will not effect the sleeve integrity. If you're sourcing this information that would be helpful to someone besides yourself, please download the guide below for easy sharing.
If you have additional questions about properly cleaning your BFM® fitting sleeves or spigots, please fill out the form below and we'll get back to you within one (1) business day.