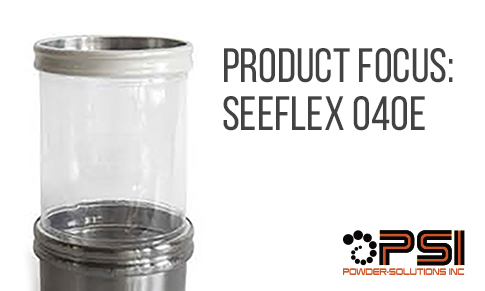 Seeflex 040E BFM® fittings
If you've heard of BFM® fittings, then you may also have heard of the #1 sleeve material used, the Seeflex 040E. If you don't know much about BFM® fittings, you might be wondering; what does Seeflex 040E mean? Why is it the most widely used material of BFM® fittings? What are the typical applications of this sleeve?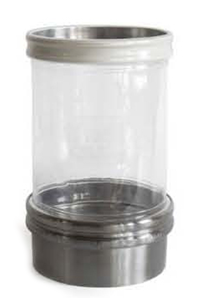 SEEFLEX 040E MATERIAL CHARACTERISTICS
First, let's go over the general material details of the Seeflex 040E BFM® fitting. Seeflex 040E is a glossy, 0.9mm thick ether-based thermoplastic polyurethane alloy. It serves as a clear flexible connector that can run in processing facilities with temperatures ranging from -13 degrees F to 230 degrees F. It provides superior chemical resistance in instances of CIP (clean-in-place) and washing.
An interesting quality of the Seeflex 040E? It has no shape memory, meaning it will not fracture as a result of repetitive motions.
This strong material, although flexible, helps contain product and ensure safety in overpressure situations. For years, the video below simulating an explosion is proof of the exceptional protection provided even by the standard Seeflex 040E flexible connector.
EQUIPMENT INTEGRATING SEEFLEX 040E
Seeflex 040E BFM® fittings are one of the most versatile flexible sleeves. Sleeves are used on all types of stationary and gyratory equipment to increase safety.
Sifters, screeners, feeders, bin dischargers, hoppers, conveyors, packing equipment and product handling equipment are just some of the many types of equipment that we typically install these on.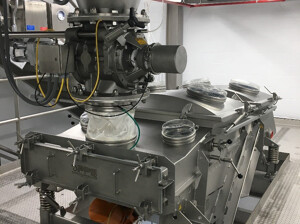 SAFETY WITH SEEFLEX
BFM® fittings all provide superior safety upgrades to processing facilities. Seeflex040E material is not exempt from this. As you know, BFM® fittings provide superior safety protection when it comes to:
Improved performance under (positive and negative) pressure
No tools required for fitting = reduced health & safety risks
Transparent BFM® connectors allow you to see product flowing between machines
While also providing all of the safety features above? Seeflex 040E meets 3A sanitary standards, which means it meets design criteria for food and dairy equipment and processing systems. This additional safety ensures a hygienic connection between your pieces of equipment.
INVENTORY FOR SEEFLEX 040E
Since Seeflex 040E is considered a "standard material", one final benefit of utilizing this material is that it's our most stocked item. We already have a very large inventory of both common and less common sizes and materials. When it comes to Seeflex 040E though, we've fully stocked a variety of sizes to suit the on-demand need of our customers.
If you're working with a non-abrasive food or powder, the Seeflex 040E is a wonderful option for a flexible connector sleeve. If you have questions about how this could fit into your processing facility, fill out the form below and we'll contact you within one business day to discuss your project.