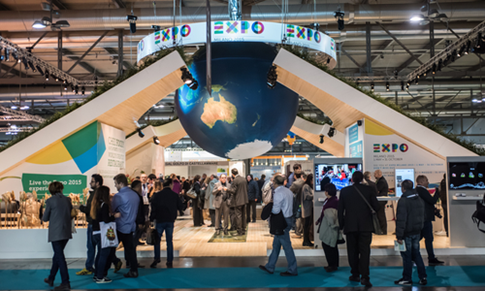 11 Powder Processing Industry Events You Don't Want to Miss in 2018
Staying on top of the latest trends and technologies allow powder and bulk material manufacturers to continue to refine operations, improve plant safety, gain new knowledge, ensure product quality, connect with other industry professionals, and ultimately grow a healthier bottom line.
Luckily, there are a number of industry events and expos that can serve as resources for powder and bulk material handling companies to do just that.
From technical training sessions and presentations to new technology demonstrations and networking opportunities, here's a list of 2018 events that powder professionals in a variety of industries could find useful:
1. Dairy Forum 2018
Dates: Jan. 21-24
Location: J.W. Marriott Desert Springs, Palm Desert, CA
Details: The International Dairy Food Association (IDFA) Dairy Forum brings together the leadership of the U.S. dairy industry — including processors, producers, suppliers, retailers, policy makers, academics, and agricultural media — to build relationships and discuss the current landscape as it relates to the future of the dairy industry.
Website:  http://www.idfa.org/forms/meeting/Microsite/Dairy_Forum_2018
---
2. World of Concrete
Dates: Jan. 22-26
Location: Las Vegas Convention Center, Las Vegas, NV
Details: World of Concrete is the largest annual international event dedicated to concrete and masonry professionals with more than 1,500 exhibiting companies and 55,000 registered industry professionals. Exhibitors include those in coating and sealing products, bulk material storage, batch plants, integrated mixing and pumping systems, and concrete plant manufacturers.
Website: https://www.worldofconcrete.com/en/attendee.html
---
3. 2018 International Production & Processing Expo
Dates: Jan. 30-Feb. 1
Location: Georgia World Congress Center, Atlanta, GA
Details: The 2018 International Production & Processing Expo draws more than 1,200 exhibitors and 30,000 visitors. The trade show is organized by the US Poultry & Egg Association, the American Feed Industry Association (AFIA), and the American Meat Institute (AMI). The show focuses on innovation — bringing together buyers and sellers of the latest technology of products and services to help make your business successful.
Website: http://www.ippexpo.org/
---
4. AFFI-Con 2018
Dates: March 3-6
Location: The Cosmopolitan of Las Vegas, Las Vegas, NV
Details: This American Frozen Food Institute (AFFI) event brings together processors, logistics providers, suppliers, retailers, and foodservice distributors and operators from all sectors of the frozen food and beverage industry.
Website: http://afficon.affi.org/
---
5. SNAXPO 2018
Dates: March 12-14
Location: Georgia World Congress Center, Atlanta, GA
Details: This event brings together suppliers and producers from the entire snack supply chain  and is organized by SNAC International. Attendees will learn about what's driving the expanding snack industry, network with snack leaders from every segment of the industry, and discover the newest tools, technologies, flavor trends, and packaging trends. Exhibitors include those from product development, manufacturing, packaging, marketing and distribution.
Website: http://snaxpo.com/
---
6. 2018 Purchasing and Ingredient Suppliers Conference
Dates: March 12-15
Location: Omni Fort Worth Hotel, Fort Worth, TX
Details: Hosted by the American Feed Industry Association, the event attracts more than 600 buyers and sellers of feed and pet food ingredients. The program is designed to benefit all feed, ingredient, and pet food professionals. PISC provides attendees market analysis and perspectives on the animal feed industry to equip them to get business done.
Website: http://www.cvent.com/events/afia-purchasing-and-ingredient-suppliers-conference/event-summary-a5d5ccd97bea42cc80f950d2ddcb4ed8.aspx
---
7. GEAPS Exchange 2018
Dates: March 24-27
Location: Colorado Convention Center, Denver, CO
Details: The Grain Elevator and Processing Society (GEAPS) organizes this event for grain industry professionals in operations and safety, as well as grain company suppliers. It offers nearly 40 hours of education and over hundreds of exhibitors in the expo hall. The event offers insights into the latest trends and technologies in the industry, the opportunity to see the latest equipment, and education on the most recent safety regulations and best practices. Powder Process-Solutions will be on-hand to talk solutions and answer questions.
Website: http://exchange.geaps.com/GEAPS18/Public/Enter.aspx
---
8. Petfood Forum
Dates: April 23-25
Location: Kansas City, MO
Details: The Petfood Forum is a unique and exclusive event that serves the global pet food manufacturing industry. From the latest research and innovation in nutrition to safety, processing, and packaging, attendees will hear from recognized experts in the industry, have the opportunity to network and conduct business, and browse solutions in the exhibit hall. Powder-Process Solutions will be in attendance at this event, so be sure to stop by our booth and say hello.
Website: http://www.petfoodforumevents.com/
---
9. 2018 International Powder & Bulk Solids Conference & Exhibition
Dates: April 24-26
Location: Donald E. Stephens Convention Center, Rosemont, IL
Details: The largest and longest-running powder show in North America, this conference and expo cover the chemical, food, packaging, and pharmaceutical industries. The event draws the processing and bulk material handling community together to share ideas, deepen industry knowledge, and explore the equipment and technologies that drive the industry. This April, the show will connect more than 3,500 industry professionals and over 350 leading suppliers — including Powder Process-Solutions — for three days of industry immersion and innovative equipment.
Website:  http://event.powderbulksolids.com/
---
10. Powder 18: The Powder Show™ & Conference
Dates: Sept. 25-27
Location: Charlotte Convention Center, Charlotte, NC
Details: Powder 18: The Powder Show™ & Conference is the Southeast's only education and marketing forum totally dedicated to powder and dry particulate processing, handling, and packaging concerns. The event features an expo and technical workshops that are designed for professional development, industry leader presentations, and more.
Website: https://pbepowdershow.com/
---
11. 21st Global Summit on Food Processing, Safety & Technology
Dates: Dec. 3-4
Location: Chicago, IL
Details: The main theme of this year's conference is "Rejuvenating innovation and challenges in food science." The conference is intended for those who are directly or indirectly related to the food processing industry and academia to improve their knowledge of advanced food processing and safety techniques.