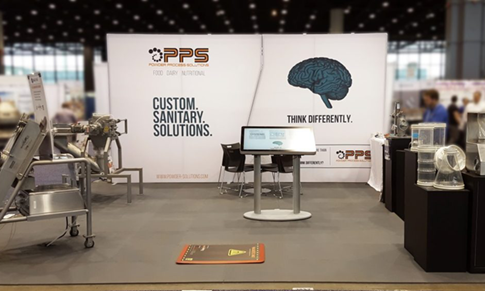 ProFood Tech 2017 & Powder Process-Solutions – What Did We Learn?
We've returned from a week in Chicago where we at PPS participated in the inaugural year of the ProFood Tech event. Here are our takeaways from the event and what you can expect to see following this show and educational sessions.
As you know, we exhibited in booth #2852 during the event towards the back of the hall and near the dining area. We had a wonderful flow of visitors throughout the event with their interests mainly pertaining to:
Innovation – What did we bring that was new?
Systems – What do we do for powder handling systems?
The BFM® fitting – Where can I use this in my facility?
Innovation
A fair amount of the visitors we saw came to the show exclusively to find something new and see how they could upgrade their food processing facility. A few of the items that we showcased offering innovation were from the MAGNATTACK™ Global line of magnetic separators.
Depending on the location of the magnet, the product being processed, and the cleaning requirements of the magnet, we recommended either the RAPIDCLEAN™ easy-clean magnet, the MAG-RAM™ self-cleaning magnet, the Horizontal Magnetic Separator, the Spherical™ Pipeline Magnet or the Liquid Pressure Pipeline Magnet for inline applications.
Powder Processing Systems
"I've heard of you, but I don't know what you do?" was something we heard from a few of our visitors. Our logo is prominent in the industry, but until someone has utilized us for our services they may not know what we do.
We utilized a large touchscreen in the center of our booth to showcase our multitude of sanitary powder processing installations ranging from food facilities, to dairy powders, to infant formula and nutritional system applications.
Visitors were surprised the many installation examples we were able to provide that often times spoke to solutions they were searching for during their search for powder processing service providers.
The BFM® fitting
More than likely, the BFM® fitting doesn't fall into the Innovation category only because it's been around for so long now. The BFM® fitting became a flexible connector solution that we utilized in our own powder processing systems and with much success there, we decided to start distributing it as well. We showcased a rotating BFM® fitting seated next to a traditional hose clamp and sleeve installation to highlight the extreme differences in performance and wear of the old-style sleeve versus a BFM® fitting flexible connector system.
Powder-Solutions, Inc. (PSI) is our sister company housed in the same building in Chanhassen, Minnesota. We are the #1 US distributor of the BFM® fitting and we pride ourselves on our ability to provide not only the BFM® fitting flexible connector, but also on our ability to work with our on-site engineers to ensure that you're using the right product with the proper installation gap to get the job done.
Didn't Visit? Don't Stress!
If you didn't get a chance to visit us in the booth, don't stress! Our staff that attended the show are always available to answer any questions and provide quotes regarding powder processing systems and components,  BFM® fitting flexible connectors, and MAGNATTACK™ magnetic separators.
Feel free to contact us today!