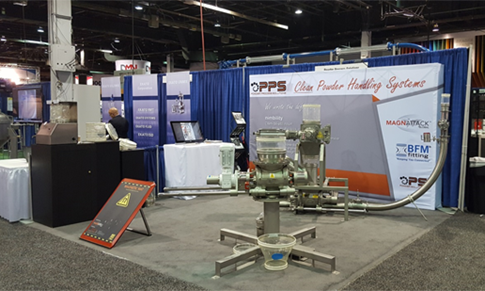 Powder Processing Event Recap: The Powder Show 2016
As North America's largest and longest-running powder processing industry event, the 2016 International Powder & Bulk Solids Conference and Exhibition celebrated its 40th anniversary and drew thousands of processing professionals from around the country to Rosemont, IL this past May.
Simply called "The Powder Show," the event brought together the best ideas and the sharpest minds for a few days of learning, sharing and networking. From pneumatic conveying and dust collection to the latest equipment and innovations, this year's event featured a whopping 21 technical training sessions and 15 presentations, and hand-picked industry experts from around the United States, England, Australia and Germany.
"More than 5,300 industry professionals attended the exhibition and conference over the course of the three-day event," Erica Holt, Marketing Specialist at PPS explained. "The weather was great and there were some fantastic presentations."
Powder Process-Solutions was one of 413 exhibitors to showcase at the expo.
"It was a great opportunity for us to introduce ourselves to new people and connect with some of our best customers," Holt said. "We talked a lot about the advancements happening in the industry, and we also showed off the BFM® fitting flexible connector system, MAGNATTACK™ magnetic separators, and our customized, sanitary powder processing systems."
While there were many event highlights, Holt said the Booth Crawl seemed to be a big hit during the expo.
"Attendees were able to travel between the booths and enjoy food and beverages during the final hour of the first expo day," Holt described. "Everyone seemed to be having a great time."
As for the conference portion, some of the favorite sessions for the PPS team were the morning keynote panel discussions that featured experts with a variety of skills and expertise giving excellent tips for improving safety, sanitation, product flow and air quality.
"Every powder processing facility is unique," Holt said. "But they all face several of the same problems with safety, sanitation and efficiency. The panelists were really knowledgeable and were able to give actionable advice."
Unfortunately, this year's awesome event did have to come to an end.
"I just want to say 'thank you' to everyone who was able to visit us at the booth," Holt said. "We had some really great discussions about their powder processing challenges and we were able to give them some advice on finding the right solutions."
The Powder Show won't be back until 2018. Check out event.powderbulksolids.com/ to see the latest event announcements.
Did you attend the event? Share your favorite moments or things you learned in the comments section below.