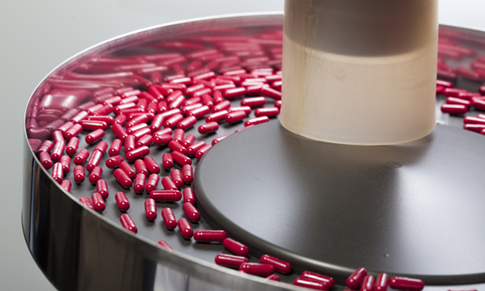 How BFM Fittings Facilitate Uniform & Safe Pharmaceutical Powder Processing
For bulk power processors who work with high potency pharmaceutical product, absolute containment of powder is critical.
Product leakage can lead to powdery dust clouds that contribute to unsafe environments for plant workers and dangerous cross-contamination risks for consumers.
Many pharmaceutical powder processing plants rely on standard flexible connectors and hose clamps between process equipment.  These antiquated connections are prone to both powder leakage and build-up. Operators must work tirelessly to secure connections to ensure a safe working environment and the entirety of the batch product making its way to consumer pharmaceuticals.
Meet the BFM® fitting.
By replacing old style hose clamps and flexible sleeves, this innovative flexible fitting ensures pharmaceutical powder processors consistently produce pure, uniform pharmaceutical product.
Comprised of two basic elements, the BFM® fitting consists of a flexible sleeve with integral top and bottom stainless steel snap bands, and two matched formed spigots (welded in place).
The airtight BFM® sleeve, which easily snaps into place using only an operator's hands, fits so securely that powder cannot leak at the connections.  This eliminates the pharmaceutical powder dust clouds that pose the risk of worker inhalation and product cross-contamination.
Designed with a crevice free interior surface, the fitting does not trap powder.  This significantly improves sanitation by ensuring pharmaceutical powder stays safe and untouched as it passes through connections.
The BFM® can be customized to fit most applications in your pharmaceutical powder processing plant, including:
Filling lines
Sifters
Baghouses and cyclone discharges
Load out chutes
Conveyors
Many More!