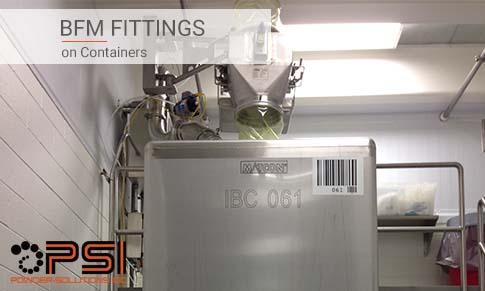 BFM fittings on Containers
BFM fittings can be found on many bulk containers throughout the food, dairy, and chemical industries. Since bulk containers, much like bulk bags or 25kg bags, are transported and stored for some amount of time, BFM fittings are often installed on them to assist in the easy removal and replacement of the bulk containers themselves.
Let's look at a few places where BFM fitting's have been installed with much success on bulk containers, specifically intermediate bulk containers and drums with covers on them.
IBC (intermediate bulk containers)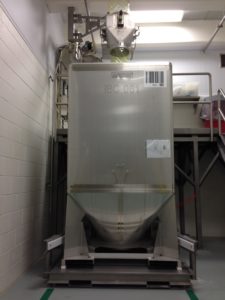 Intermediate bulk containers are also known in the processing industry as IBC's. They can be used as more industrial bulk containers for the chemical industry or can be made hygienic for the food and dairy industries.
To be used in the food and dairy industries, IBC's can be made to meet the highest level of hygiene and safety when fabricated with the right materials. They are efficient and dust-tight solutions which make them a perfect situation to integrate BFM fittings.
BFM fittings can be used in multiple locations at both the inlets and outlets of IBC's. As you can see in the image, this installation utilized a RapidClean grate magnet at the inlet of the IBC, so BFM fittings were fitted before and after the magnet to contain and also provide magnetic separation prior to IBC filling.
The dust-tight BFM fitting, as with other equipment installation examples, provided a clean transfer of powder into the intermediate bulk container.
Drum Covers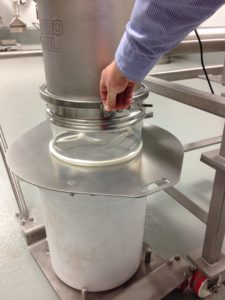 Drums are another location where we've creatively installed BFM fittings onto for containment. By utilizing a BFM fitting spigot and sleeve along with our manufactured drum cover, drums used for dust collection or as an overs container can keep a clean collection point.
One benefit of this installation is easy removal and replacement of the drum itself that can sometimes require frequent changeover. With the easy snap out of the sleeve, you can quickly and seamlessly replace drums. The removable cover also can be lifted  quickly and replaced for viewing access.
If your find yourself with any sort of bulk container that requires dust-tight flexible connectors, BFM fittings are a great solution. Please fill out the form below for further assistance and we will contact your within one (1) business day for assistance.