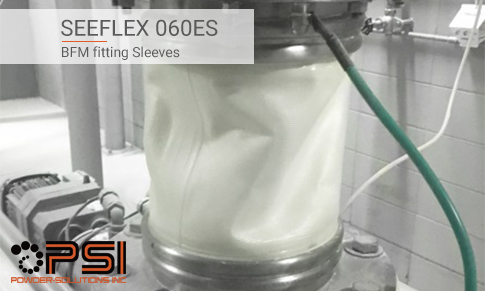 Seeflex 060ES BFM fitting Sleeves
Seeflex 060ES sleeves are known for their thicker properties versus a general Seeflex connector. The ether-based thermoplastic polyurethane houses an internal polyester scrim, so this sleeve material is noticeably thicker and less pliable than most other BFM fitting connector materials.
Highlighted below are the main properties of the Seeflex 060ES:
Internally bonded scrim restricts the Seeflex sleeve from stretching and provides superior pressure resistance
Installed in high pressure powder & bulk processing scenarios
May be used on slight vibration, but not on oscillation
Often used between hopper bin activators & rotary valves
In an effort to mitigate difficulties installing this thicker sleeve, we've supplied the video clip below to see how easy it is to install this sleeve, even with it's increased resistance.
If you  feel like Seeflex 060ES BFM fitting sleeves would be an appropriate flexible connetor at your processing facility or if you have questions about any of the BFM fitting materials, please fill out the form below and we will get back to you within one (1) business day.