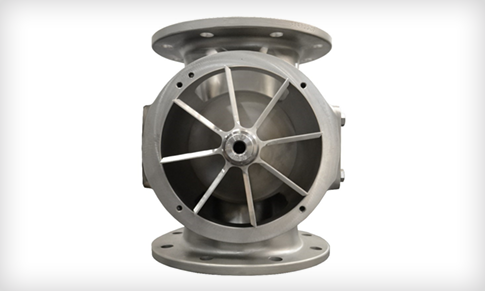 Is Your Rotary Valve or Airlock On It's Way Out? Rotary Valve Rebuilding May Be an Option
Dear Powder Doctor,

Our rotary valve is in need of replacement. We're aware that a new rotary valve is quite expensive. Do you have recommendations for finding a cost-effective replacement?

Sincerely,
Roe T'Val
---
Dear Roe,
Making sure that your rotary valve or airlock is in top working condition is essential for preventing air pressure loss in high pressure conveying systems, and to prevent contamination from metal and bacteria from several damaged valves. But you may not need to purchase a brand new, expensive valve to restore your powder processing system to working order. Oftentimes, rotary valve rebuilding or reconditioning is an option.
A new sanitary stainless steel rotary valve can cost up to $40,000. Rebuilding the same valve could cost between $8,000-15,000, making it an incredibly cost-effective solution.
Powder-Process Solution has been rebuilding rotary valves for more than 30 years. There are many common problems powder processors run into with rotary valves. The good news is that these issues can taken care of with a rebuilding service that upgrades the seals, surfaces, and rotors. In addition, rotary valve rebuilding is a great solution if you're experiencing the following problems:
Scratches and scoring
Product blow-by
Pressure equalization
Remember, many times rotary valves don't need to be completely replaced.