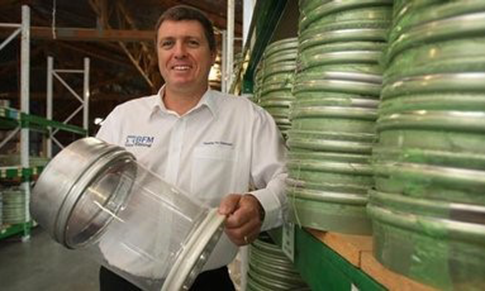 3 Reasons BFM® Fittings Should Replace Your Standard Flexible Connectors
Sanitation, plant safety, efficient operations and product quality are critical cornerstones for bulk powder manufacturers. And the good news is that there's something that can ensure all four: flexible BFM® fittings.
BFM® fittings were created to solve many problems associated with old fashioned flexible sleeves and hose clamps used in powder processing lines. Here are just three reasons BFM® fittings should replace hose clamps and flexible sleeves:
1. Better Sanitation
BFM® fittings offer major plant sanitation benefits. They have a crevice-free interior surface that doesn't trap powder, making the sleeves incredibly easy to clean and sanitize. Also, BFM® fittings seal air-tight, which prevents product leakages that can lead to cross-contamination and bolsters product quality.
2. Enhanced Safety
BFM® fittings seal tighter under pressure, providing superior explosion protection in over-pressure situations to keep your staff and facility safe. This feature is especially helpful for powder processing plants because the air-tight seal prevents product leakage from forming powdery dust clouds that can contribute to unsafe work environments.
3. Improved Efficiency
Not only are BFM® fittings easier to clean than old-style sleeves and hose clamps, but they also improve efficiency in the following ways:   
Less time is spent on changing sleeves since BFM® fittings have no wear points and last longer.
The smooth, snap-in design requires no tools for installation, which makes them easy and fast to install.
The easy installation and sleeve design allows no room for error during the installation process, saving time spent on the installation process itself and troubleshooting issues from improperly installed sleeves.
BFM® fittings are available in standard diameter sizes from 4" to 36", as well as a variety of lengths and sleeve materials. Learn more about the BFM® flexible connector system and see all the options on our BFM® fittings page.
Powder-Solutions, Inc. is the largest U.S. distributor of BFM® fittings, and can provide guidance on making the switch. Get in touch with us today to learn more.