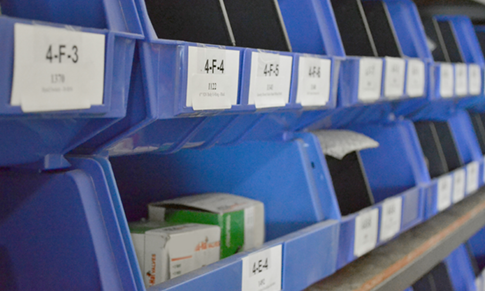 6 Reasons to Always Have Spare Parts on Hand for Powder Handling Equipment
Time is money and when equipment breaks down, it's costly. Employees can't work. Product isn't processed. Revenue is lost. Having spare parts for powder handling components can keep powder processing lines running and productive.
Equipment breakdowns happen but it's how efficiently the situation is handled that separates the best from the rest. To avoid unnecessary spending, here are six reasons why keeping powder handling equipment spare parts handy can help save money.                                              
Reduce lost revenue
When manufacturing is shut down, every minute counts. Lost production time equals lost revenue for the company.
Reduce lost productivity
When powder handling equipment is down, employees will still need to get paid. Once lines are back up, catching up to the production schedule may require employees to work overtime, resulting in higher wage costs to the company.
Save on fees
Thinking ahead by stocking up on spare parts will save on paying unnecessary shipping and processing fees needed to expedite urgent orders.
Eliminate customer penalties
When powder handling equipment is down, products cannot be delivered to the customer in a timely manner. Depending on your customer agreements, missing deadlines could result in fees or price reductions as penalties for delayed delivery.
Protect reputation
It takes a long time to build a reputation but only moments to destroy it. Customers expect that products will be delivered to them on a timely and reliable basis.  Keeping spare parts for powder handling equipment on hand can keep production lines running smoothly which boosts the company's valuable reputation.
Avoid waiting on parts that cannot be expedited
Not every distributor/manufacturer item can be stocked in-house. Lead time for spare parts varies greatly depending on the stock capacity of the distributor or manufacturer. Some items may even take up to 12 weeks to source and cannot be expedited in event of an emergency.
Don't risk losing revenue and the company's reputation by not being prepared for equipment breakdowns. Remember, the costs associated with powder handling equipment breakdowns will be far greater than being prepared and planning ahead. Learn how ensure your facility has access to reliably delivered, in-stock spare parts from Powder Process-Solutions.