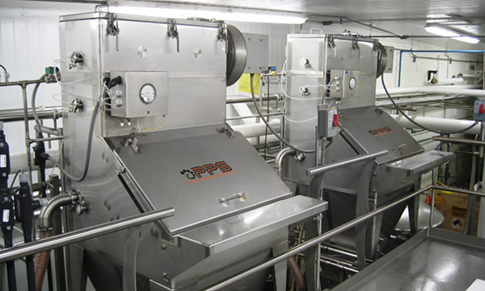 3 Considerations for Choosing Bag Dump Stations
Managers at bulk powder processing facilities may believe that one bag dump station is the same as the next. When employees suffer physical ailments due to poor dump station equipment design, problems with dust, or if product sanitation is at risk, however, they will realize that is a serious misconception. As managers look more closely at bag dump design specifications, they will see there are significant differences in dump station equipment, particularly when it comes to ergonomics, dust evacuation and sanitation standards.
1. Ergonomic Construction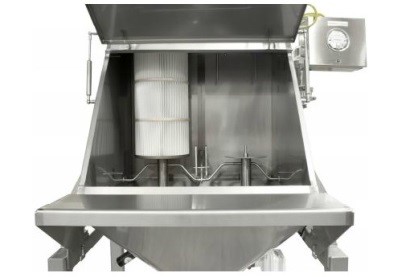 As employees are adding powders, bag dump stations' ergonomics are crucial to keeping workers free of injuries. Table height that makes it easier for workers to dump powders is one feature to keep in mind when selecting dump station equipment. Dump stations that facilitate bag transfer to the feed table also prevent employee injuries by omitting twisting, turning and lifting motions.
For example, in an infant formula processing line, various powders would be added to the blend, such as whey, milk powder, lactose, sugar, vitamins and probiotics. Some ergonomic lift tables elevate bags layer by layer as they're unloaded and are aligned with the feed conveyor. Bag dump stations that are ergonomically designed help workers operate more efficiently while preventing injuries.
2. Dust Evacuation Capabilities
Another worker safety concern is exposure to dust when bags are unloaded of powder and dust plumes into the air. Bag dump station equipment that has a poor design or improper capture velocity may expose operators to dust, which is hazardous to employee health.
Bag dump stations that control powder plumes create a dust-free, safe environment for workers while eliminating loss of valuable product. One example is a dump opening or grate with internal baffles that create sufficient velocity to keep the dust contained within the equipment. Whether dump station equipment controls dust is an important consideration.
3. Sanitation Assurance
The third consideration is a dump station's features that pertain to sanitation – particularly crucial when adhering to USDA, 3A or EHEDG guidelines. When processing powder for the food and dairy industry, bag dump stations should be configurable so features such as magnet grates can be added to catch ferrous contaminants or screen out oversize particles. Other possible features to add include vibrating trays or other tools that promote better product flow, meters, and pneumatic conveying systems.
Another dump station feature that affects product cleanliness is dust collection. Cartridges that filter out dust should be easy to handle, clean and replace in order to ensure sanitation standards. Facilities adhering to USDA standards need to have remote dust collection systems in place. When selecting dump station equipment, it's critical that managers look at how the equipment meets sanitation requirements.
Powder processing managers have three important considerations when selecting the right dump station equipment for their facility. Stations that are ergonomically designed, contain dust and are configurable promote employee safety and adherence to strict product sanitation standards.
Learn more about dump station equipment with information on bag dump stations.